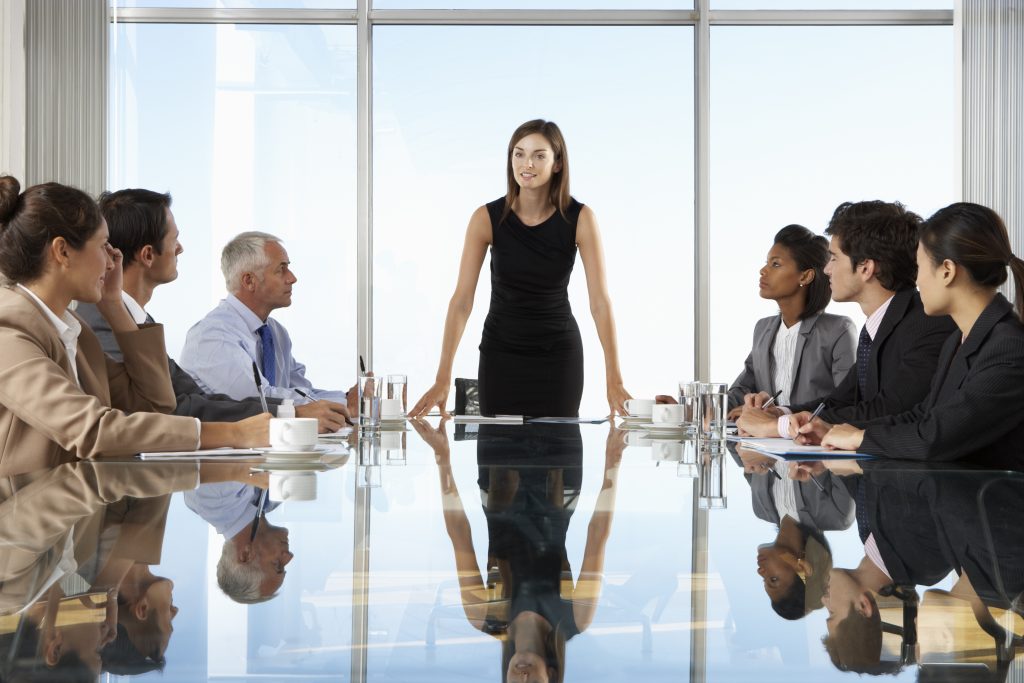 Just as many enigmatic actors possess an on-screen sparkle that can captivate an audience, great leaders possess a similar quality— an elusive yet critical trait that has a powerful impact on personal and organizational success. This term is called Executive Presence and can be defined by an individual's ability to empower, influence and bring out the best in others. It is the synthesis of all celebrated leadership qualities and is expressed by how one acts, speaks and looks. This term has become common in HR and L&D circles because studies show that executive presence is a key factor in advancement and promotion. In this post, we'll help define this leadership quality, illustrate its importance and tell you how it is developed.
According to a 2012 study by the NYC based Center For Talent Innovation in which 4,000 corporate professionals were surveyed, Executive Presence depends on the following three cornerstones:
Gravitas: A leader's confidence, integrity, grit, decisiveness, emotional intelligence and ability to remain calm and in control under pressure. This quality is the greatest contributor to executive presence, according to 67% of the 268 senior executives surveyed.
Communication: An essential leadership component, 28% of those surveyed said success depends on excellent speaking skills, command of a room, ability to read their audience and adapt their style or message accordingly.
Appearance: 55% of a leader's impression is visual, so clothing, grooming and physical appearance is key. While only 5% of leaders say attractiveness is vital to Executive Presence, 35% say that good grooming increases it and 76% say that inappropriate clothing detracts from it.
As if having these qualities weren't tall order enough, leaders must also know how to implement them for success. In today's business world, leader's responsibilities are manifold—they must be credible and earn the trust of their employees and teams. They must influence their constituents and win buy-in from both external and internal audiences. Leaders must motivate, inspire and empower employees during times of change and clearly articulate decisions that affect everyone in the company. And leaders must bring out the best in people so that they are satisfied and productive at work. When any one of these important efforts is missing, an organization's success can hang in the balance.
Several years ago our office received a call from a VP of Executive Development. Her company's CFO had just been promoted to CEO. This new position required greater exposure to key stakeholders both internal and external, and the new CEO was struggling to adjust. Several concerns were cited, among them, – "appearance is too casual in dress and body language"… "direct reports aren't clear on direction and not taking action"… "doesn't appear confident when speaking to employees or clients"… "just not acting like a CEO!". The CEO's communication and executive presence needed a boost; a problem the organization sought to fix as quickly as possible.
Luckily, research strongly suggests that executive presence can be learned and developed. In fact, 98% of executives surveyed in the CTI study reported that their skills were learned, not innate.
So if Executive Presence is learned, where does one begin? In this particular case as with all coaching engagements, we start with assessment. Once our President Susan Farwell was engaged to provide coaching for this CEO, they underwent a comprehensive assessment of current communication behaviors to understand how the CEO was being perceived by those they needed to influence and lead.
After working together to determine areas for improvement, Susan helped the CEO develop clear and direct messaging that gained the respect of the CEO's direct reports. They worked on building skills that improved the CEO's poise, confidence and stature. They brushed up on appropriate dress for various work scenarios.
Within six months of coaching and skill practice, the CEO took on behaviors more suitable to the role. Their appearance became more polished, their behavior became more intentional, their speech took on authority. By practicing these leadership skills with a trusted coach who could provide candid feedback, the CEO began to exhibit the executive presence they needed in order to confidently take the reins and lead their organization.
Because we are a communications firm whose work is informed by research, we included this example to support the CTI survey finding that 98% of executives developed their leadership aptitude over time. They weren't born with the necessary tools. Some do this on their own, some work with internal advisors, but many executives find that working with an external coach provides the objective feedback and practice opportunity they need to improve how they act, speak and look.
Executive Presence is a leadership quality that is fostered through self-awareness, skill development and on the job experience. There is no fast track, but leaders who are aware of it, work hard to cultivate it, and avoid mistakes that sabotage it will enjoy the most success for themselves, their people and their organizations.